By Clark Boyd

Google Trends, first launched in 2006, provides marketers with invaluable insights into how people search on the world's most popular search engine.
In its earlier guises, Trends (or Insights for Search, as it was previously known) was a rather static resource, updated only on an infrequent basis with fresh data.
Over time, the power of this service has been tapped in new and enlightening ways.
For example, a study undertaken using Trends data by Seth Stephens-Davidowitz and written up in the New York Times in 2014 found, "Parents are two and a half times more likely to ask "Is my son gifted?" than "Is my daughter gifted?""
Such newsworthy incidents revealed the richness of Google Trends as a data source to the wider public. People's underlying attitudes, desires, and beliefs start to come to the fore when they communicate with a search engine.
As the megalomaniac founder of a fictional search engine puts it, while discussing the data at his disposal, in the 2015 science-fiction movie Ex Machina:
You see, my competitors, they were fixated on sucking it up and monetizing via shopping and social media. They thought that search engines were a map of what people were thinking. But actually they were a map of how people were thinking.
Both of these examples – one real, one imagined – highlight exactly why Google Trends is so valuable for search marketers.
It is the closest we have to a synthesis of market research and SEO data. With its ability to segment trends by geography, product category, content topic, and date, it allows us to go much broader in our analysis than traditional SEO tools ever could.
With Trends' recent expansion into News, Shopping, Images, and YouTube, it seems the perfect time to revisit and refresh the many ways in which this powerful tool can help your SEO efforts.
First, some housekeeping
If you are relatively new to Google Trends, there are a couple of things to bear in mind when you look at the data visualizations.
First of all, Google Trends data is adjusted to make visual comparisons between different data sets easier for users. Google offers the following to explain for its methodology:
"Search results are proportionate to the time and location of a query:
Each data point is divided by the total searches of the geography and time range it represents, to compare relative popularity. Otherwise places with the most search volume would always be ranked highest.
The resulting numbers are then scaled on a range of 0 to 100 based on a topic's proportion to all searches on all topics.
Different regions that show the same number of searches for a term will not always have the same total search volumes."
In practice, this means that we end up with graphs like the below, showing trended data on a scale from 0 to 100:
Furthermore, a note is applied to all graphs that look back to before 2016, as Google made a significant update to the collection of data at this point. This can cause some unexpected jumps in graphs at the beginning of 2016, but the overall trends still provide a good guide to the historical demand for a topic.
Now, onto the tips.
How you can use Google Trends for SEO
Keyword research
Keyword research seems the most obvious SEO-based use for Trends, but it is often overlooked in favor of Keyword Planner and the other industry-standard tools.
In fact, it serves as the perfect complement to these platforms, bringing to light patterns that they cannot reveal.
Trends will suggest new keywords based on different criteria to those employed in Keyword Planner. For example, it highlights related search queries (using the example of "dogs" again) that have very recently risen in popularity, as we can see in the screenshot below: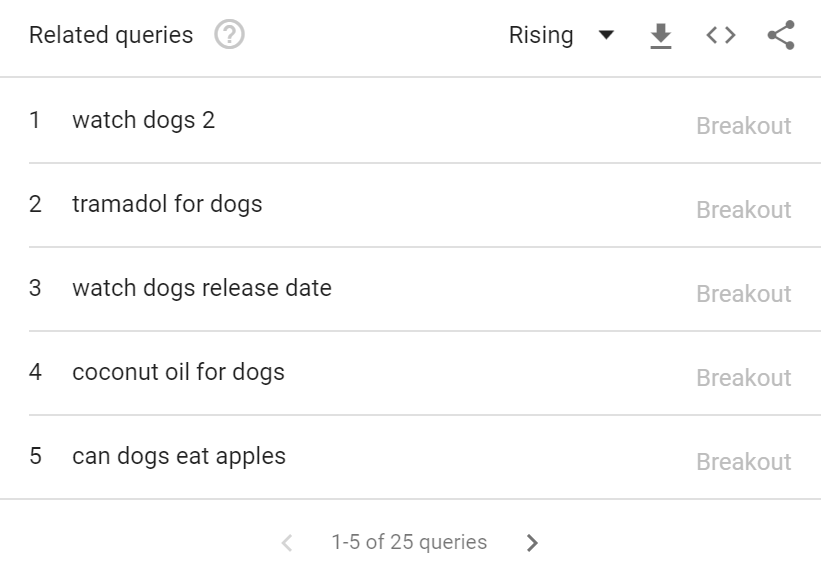 Clearly, these will require a sense check before you add them straight to your keyword list. As stated before, we really can learn something about the human condition from Google Trends.
There will also be some outliers (in this case, the Watch Dogs video game), as Google groups together a lot of related sub-topics under the aegis of the main categories.
Nonetheless, these examples do show how frequently this tool can provide unexpected ideas.
It is also reflective of how the readily available nature of fresh data on Trends can add vital, new elements to a keyword list.
This is significant as we move beyond simple keyword matching and into an age of semantic relevance. Building out a keyword list that contains the spectrum of audience demand for your products is no longer a luxury; it is a pre-requisite for performing well.
Moreover, if SEOs can target trending queries before they peak, competition will be lower and potential rewards will be greater.
For those that would like to examine the data outside of the platform, there are numerous R and Python packages that can make calls via the Google Trends API.
This allows users to download queries in order to manipulate and visualize the data. One such package for R, (gtrendsR), is explained in more detail in this handy blog post.
Combined with a versatile plotting package like ggplot2, this approach opens up a new level of functionality to Google Trends data for SEO research.
Compare search trends across Google search engines
The addition of filters for News, Shopping, Images, and YouTube to Google Trends has opened up a wide range of new SEO research opportunities.
These can be accessed from a drop-down menu at the top of the results page.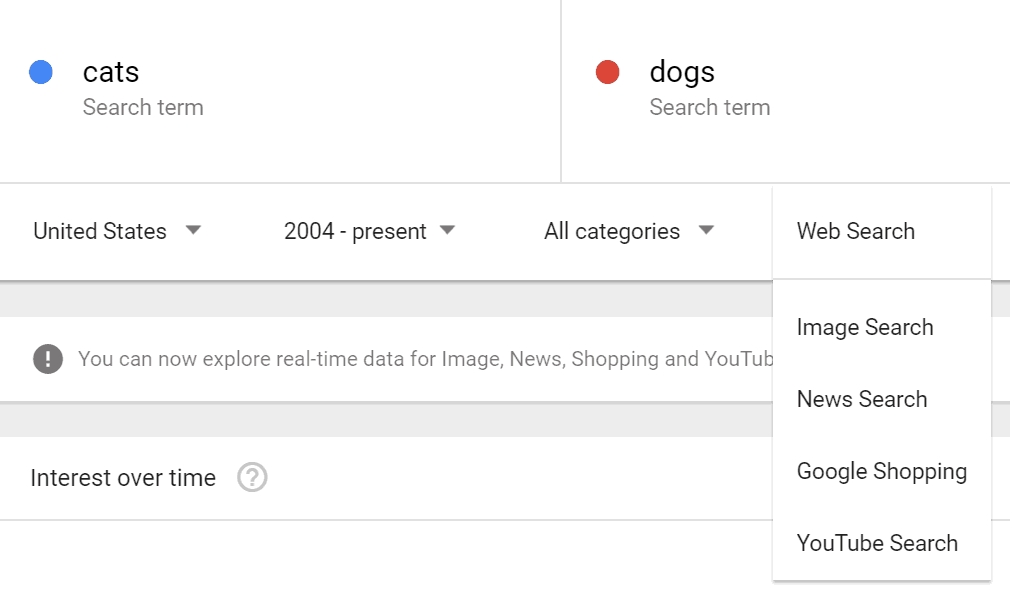 Image search data in available from 2008 to the present day and it should prove a very valuable source of inspiration for SEOs.
Not only is image search responsible for a huge amount of queries already, but it is also an area of focus for Google as it aims to fend off threats from the likes of Facebook, Amazon, and Pinterest.
Once more, we can segment the data by sub-region or city and there are suggestions for related image search queries too: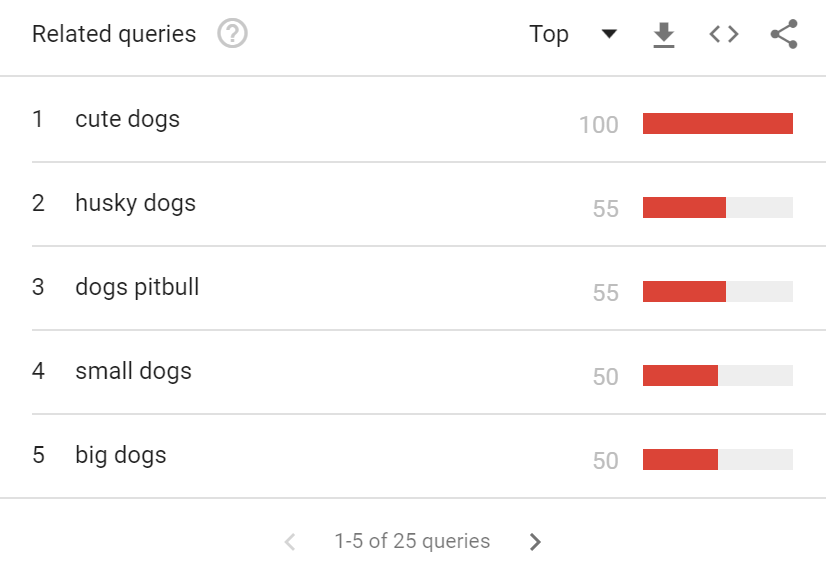 It is also possible to compare these search trends across two different queries, due to the manner in which Google processes and displays the data. In the example below, I have set the filter to show the trends for "cats" in the US and for "dogs" in the UK: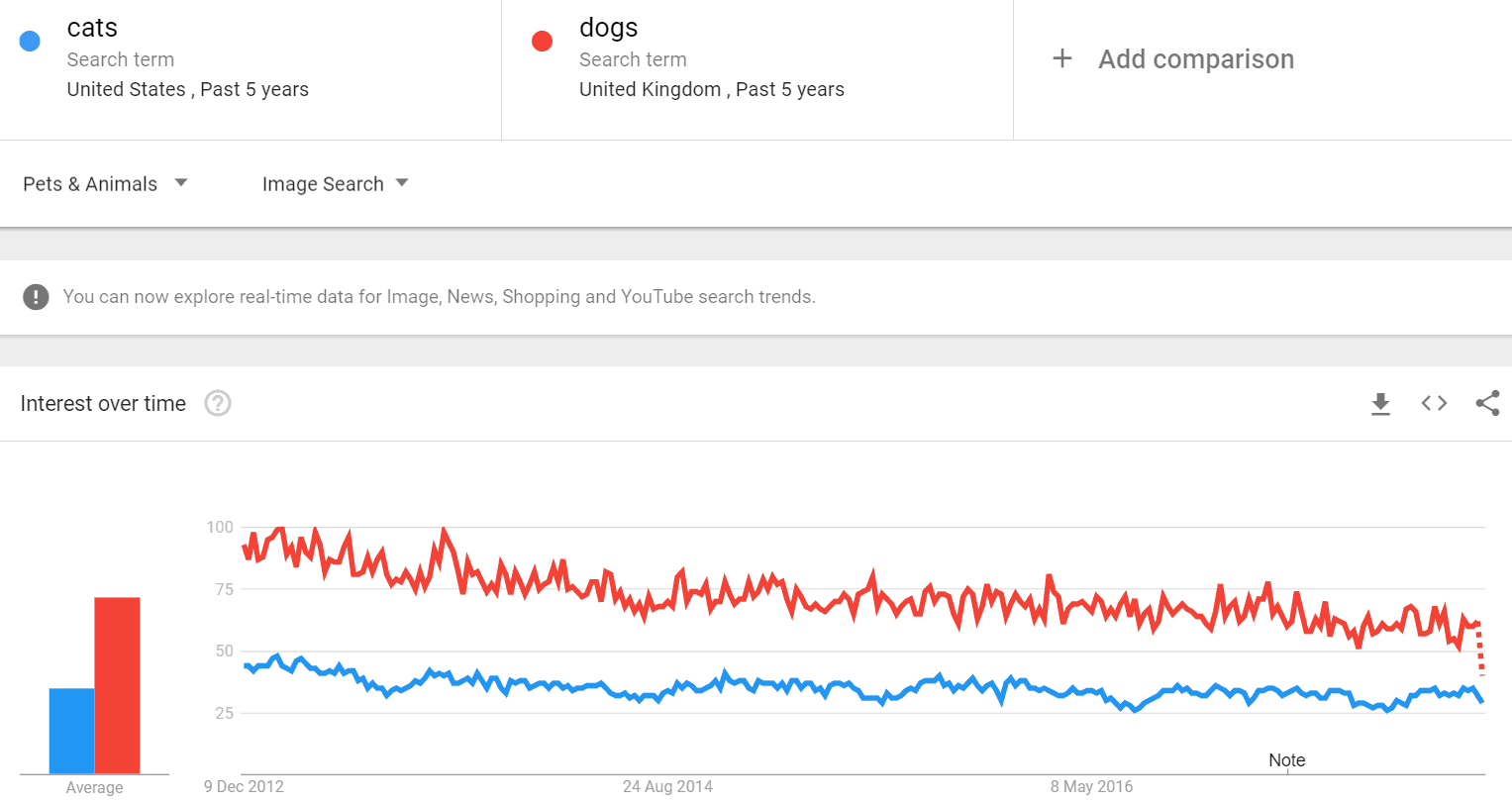 We can therefore say that image searches for dogs in the UK are more popular than image searches for cats in the US, in relative terms, even though this would likely not be the case in absolute terms.
On YouTube, the eternal cats versus dogs battle lives up to its fiery reputation, with a much narrower gap between the two search topics:
Trending queries are highlighted here too, which should give us even more reason to keep visiting Google Trends for our research: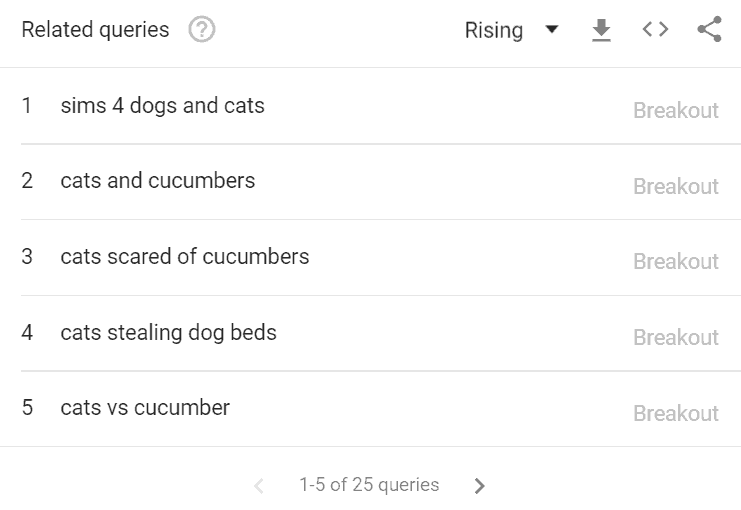 Assess and predict seasonal peaks
Perhaps the most common use of Google Trends for SEO is the analysis of peaks and troughs in consumer demand.
To cite a simple, but illustrative, example of how this works, we can look at the search query [olympics]:

We see significant worldwide peaks every four years for the summer Olympics, with the winter equivalent attracting another (if smaller) increase two years later each time.
In this example, history tells us that we are about to see another peak in demand for [olympics] very soon, but that insight alone does not translate into much.
Firstly, we don't know the size of the opportunity in absolute terms, as Trends provides only relative values.
However, if we cross-reference what we see in Trends with the data we have from Keyword Planner, we can start to understand what a value of 100 on this chart means in real terms.
Admittedly, Keyword Planner data is indicative at best, but we may also have data from AdWords campaigns. This can at least guide us towards a predicted search volume for the upcoming Olympics.
Of course, it seems very intuitive that a major event will lead to more searches for the event's name. Nonetheless, if we take this same approach and apply it to less predictable industries, such as fashion for example, Trends can help you to identify keywords before the competition does so.
This is supplemented by Trends' use of real-time data to suggest new topics.
Trending topics for reactive content
One of the most useful aspects of Google Trends is the access it provides to real-time search data. There are plenty of content marketing and SEO technologies out there, but none can provide data as reliable as the information Google serves from its own databases.
These can be accessed directly from the Google Trends homepage: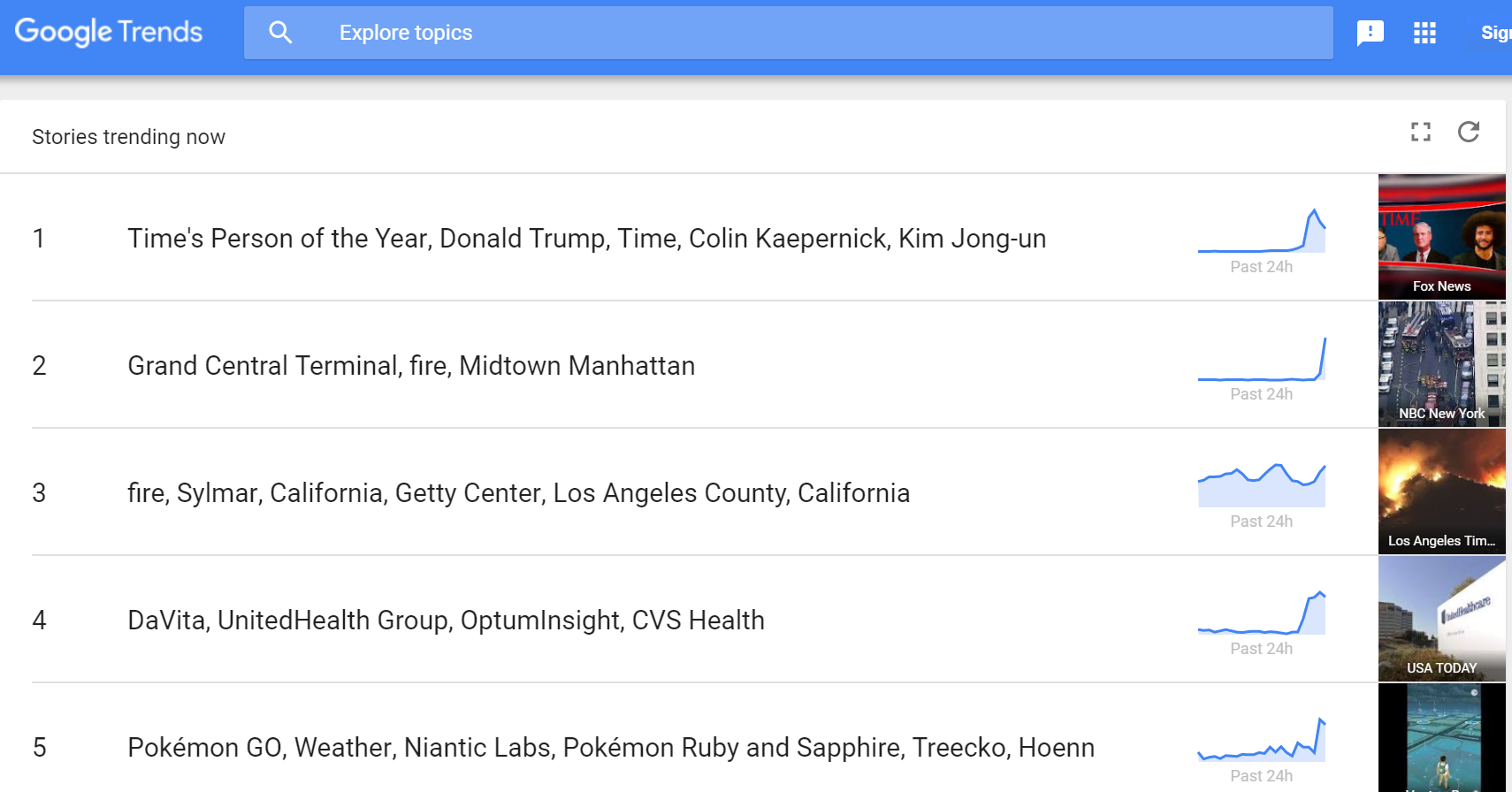 Clicking on a story will then lead to a selection of featured articles, plus a detailed breakdown of search interest and published articles over the past 24 hours: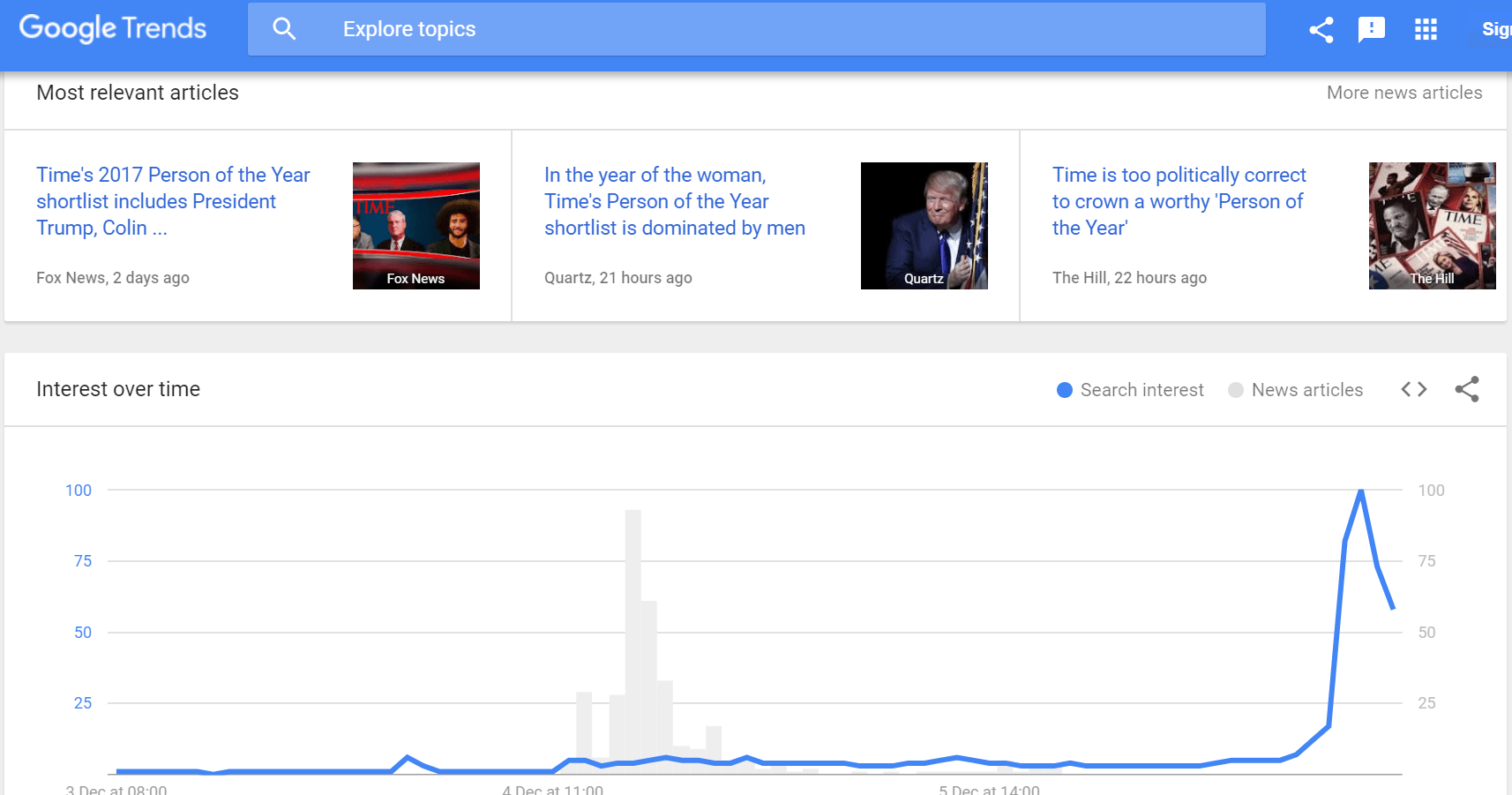 The analysis goes further still by showing search interest by state, related queries, and related topics: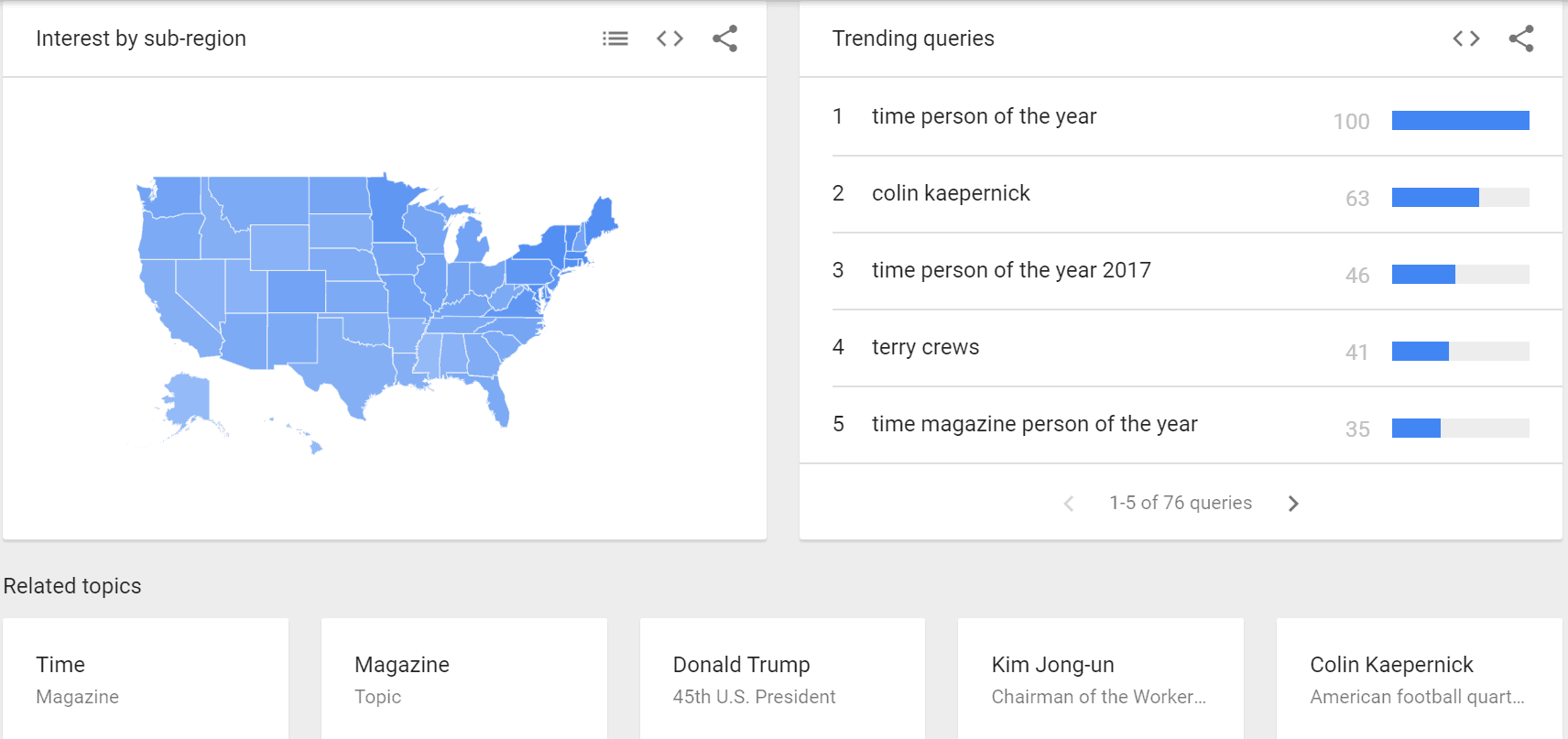 This should be a go-to resource for anyone that produces reactive content, whether for their website, social media, or elsewhere.
Another interesting way to work with this data is to take the URLs that are listed as featured articles and use an SEO tool like Ahrefs or SearchMetrics to source the keywords that the page ranks for.
This provides insight into how quickly a page can be indexed and ranked, along with the quantity of semantically related queries one page can rank for in a short period of time. More than anything, this can help us understand how Google processes and prioritizes fresh content.
Source:: Search Engine Watch RSS